"Whether you're a Fortune 500 or a start-up, your business is important to us. And we will do everything we can to earn your business and your trust. We take great pride in the fact that most of our clients find us by referral or word of mouth. Our client base is the best new business tool we possess. We take great care to build and nurture relationships with all our clients."

Victoria James, President, Victoria James Executive Search, Inc.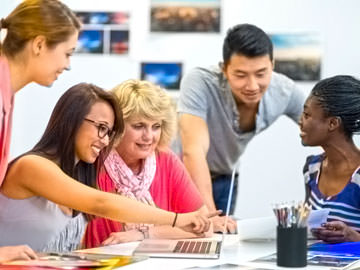 What we will do for you:

First, we discuss your company and corporate culture to help us understand all the issues important to you.

Then we discuss specific openings, including :

job responsibilities and candidate's qualifications
work experience and personal characteristics
salary range and benefits
Then we use our powerful candidate database, networking resources and technology to narrow the search.

We identify the most favorable candidates and assess them to match their skill sets and experience with your needs.

We contact the best candidates and assess their interest in the position.

We will provide you with:

Their CV.

A cover document highlighting relevant elements of their experience.

Their complete salary history.
When you select the top candidates we set up interviews and manage all logistics:

We contact you and the candidate after the interview to gain insight and feedback to help you move forward.

When you are ready to make an offer to a candidate, we conduct all reference checks and present feedback to you in writing.

We continue to work with you to develop a compensation and benefits package.

We formally present your offer to the candidate and facilitate the hiring process.

After placement we work with both you and your new hire to make the transition as smooth as possible.

VJESI will be pleased to design a relationship, on retainer or otherwise, that benefits us both.

VJESI proudly serves clients not only in the United States, but in the United Kingdom and Canada, as well.
"At Victoria James Executive Search we value honesty, directness, openness and collaboration. We also value our professional relationships and that's why we are committed to providing our client companies with superior talent that will give them the competitive advantage needed in today's rapidly changing business environment."

Victoria James, President, Victoria James Executive Search, Inc.