The Talent Shortage: What Hiring Managers Don't Know Can Hurt Them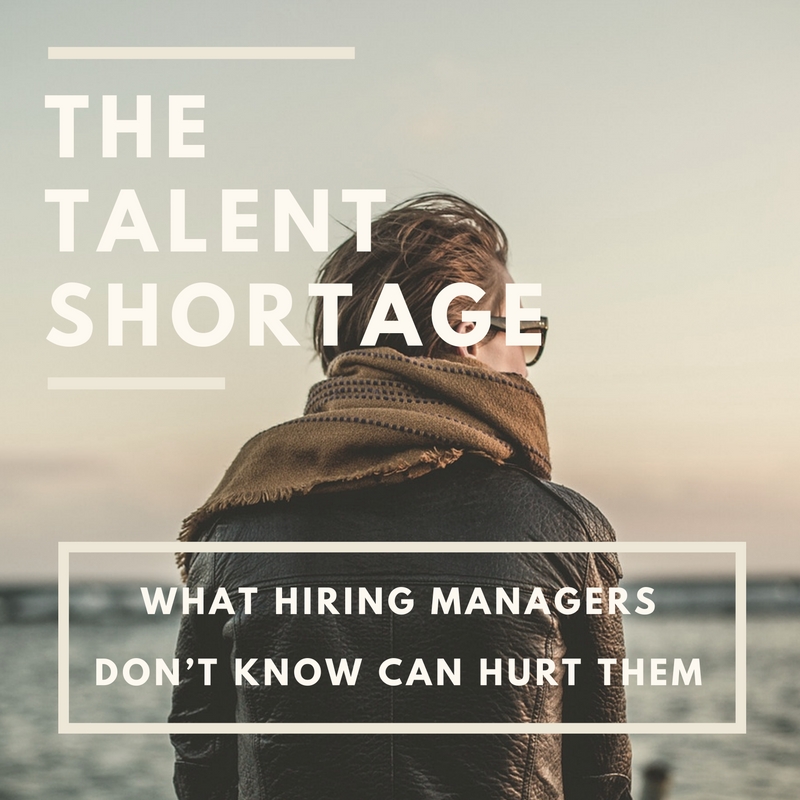 As talent professionals, we've seen the way business changes and economic cycles can influence the pool of available, qualified job applicants.
Heck, we've seen this before, weathering even seismic shifts to certain industries.
Hello, social media…
Still, this seems different: A decisive and unprecedented shift is underway—one that favors job candidates and one that hiring managers ignore at their own peril.
Among more than 41,000 hiring managers from around the world, 38% are having trouble filling positions, and this was a seven-year high among global employers reporting, according to a recent ManPower Group talent shortage survey.
"During the past 10 years the world has experienced a global recession, an uneven recovery, and demographic, technological and economic shifts that have transformed the employment landscape. We have seen the emergence of the Human Age, where talent is the new differentiator. Through all of this uncertainty, the one constant is that talent shortages continue unabated," says ManPower Group CEO Jonas Prising. (1)
What's more, when it comes to the war on talent, there's evidence that the candidate is striking back, writes Mike Wolford in Recruiting Daily:
"The dark times, the 'great recession,' swept the old rules away and it was the end of the candidate market. As unemployment in certain areas climbed into the double digits we thought we had forever seen the end of the candidate market. But in the melee of layoffs and job losses we forgot a simple truth. The truth is that it is always a candidate market for the best people." (2)
Here are four things organizations, talent professionals and hiring managers can do to bridge the talent shortage hiring gap:
1. Move From Task-Driven to Ownership
One key driver of employee engagement involves creating opportunities for ownership in a particular area. In other words, organizations can be more proactive about studying their employees to find sweet spots in what they do—activities they love to do rather than have to do. Employees want to be challenged and empowered with the ability to make their own decisions, however small or defined in scope. This involves a shift in mindset from task-driven to an ownership-driven workplace. This is what expected from today's talent pool, especially millennials. Hiring managers can make it a priority during one-on-ones and annual reviews to discover what employees love to do on the job. They can try to bring out the best in those they manage, and this kind of approach will resonate with incoming candidates looking to fill open positions. Hiring managers can share these stories to showcase company culture.
2. Stop Trying To Catch The "Purple Squirrel"
It would be truly remarkable to catch a purple squirrel if it weren't for the fact that none exist. Still, organizations and talent professionals often act as though they did exist. Purple squirrel is a term used by recruiters and career coaches to describe the endless list of job requirements used in many job descriptions to find that "perfect" job candidate who, more than likely, doesn't exist. Talent professionals and hiring managers are similarly frustrated by the practice, only they don't know why. They think there's a dearth of candidates when, in actuality, they're looking for a purple squirrel that doesn't exist! Instead, organizations and talent professionals can use the Pareto principle's 80/20-rule, and focus on the 20 percent of the job requirements that will produce 80 percent of the strategic results needed. This is much easier and more effective than finding the candidate who can fulfill every individual job aspect. Learn to converse with candidates during the job interview, rather than asking the same tired questions. Learn how they think and solve problems, instead of checking off a list of endless job requirements.
3. Use The Right Talent Recruiting Tools
Technology has opened up new ways for organizations to find the right candidate in real time. LinkedIn's Talent Solutions product makes good use of the business platforms best features, including access to more than 400 million members around the world. LinkedIn has pretty much automated the job-finding process for job seekers, who can now submit their LinkedIn profile with the click of a button rather than filling out complicated, antiquated online forms on hiring company websites. Most job seekers use their LinkedIn profile as an online resume now, complete with job history, skill endorsements and colleague and client recommendations.
4. Use Rigorous Hiring Practices And Methodology
You can read our recent post on Topgrading, the hiring and promoting methodology used by many organizations to recruit "A" Players, rather than type "B" or "C" performers. This data-driven approach helps organizations understand the cost of mis-hires. Thousands of case studies from Topgrading companies revealed that only about 25% of the people hired and promoted were turning out to be high performers before starting to use the Topgrading method. This means three-out-of-four people hired were turning out to be mis-hires—yikes. Topgrading's rigorous process can help organizations to keep A-players happy, coach B-players into A-players, and provide an opportunity for C-players to become A-players at other organizations. (3)
What Are You Searching For?
Let us apply our considerable skills and experience for you. If you've worked with Victoria James Executive Search before, you already know how we provide strategic value for our job seekers and HR talent professionals.
All Victoria James Executive Search recruiters have a proven track record of senior-level placements at Fortune 500 firms as well as start-ups.
Smile! We leave with the following superb job-interviewing tip guaranteed to land your next job with style
from the folks over at The Poke in the UK (try these at your own risk

):
Take a call on your cell phone during the interview, and say: "I can't talk now. I'm going into a tunnel—a tunnel of hope!" Wink at the interviewer as you say it.
➤ Get news like this delivered right to your inbox – click and subscribe to our mailing list today!
---
References:
1. Prising, Jonas. 2015 Talent Shortage Survey, white paper excerpt. (Accessed Aug. 22, 20160: http://www.manpowergroup.com/wps/wcm/connect/manpowergroup-en/home/thought-leadership/research-insights/talent-shortage-2015/talent+shortage+results
2. Wolford, Mike. Talent Wars: Candidates Strike Back. Recruiting Daily. Aug. 17, 2016 (Accessed Aug. 22, 2016): http://recruitingdaily.com/candidates-strike-back/
3. Forbes Coaches Council. 11 Strategies Companies Can Use To Overcome The Talent Shortage. Forbes. August 15, 2016 (Accessed Aug. 22, 2016): http://www.forbes.com/sites/forbescoachescouncil/2016/08/15/11-strategies-companies-can-use-to-overcome-the-talent-shortage/#1d126aff2c46
---
Is your company looking for a top notch Account Manager?
Victoria James Executive Search specializes in recruiting talented, experienced professionals for a wide range of jobs in Account Management, including:

Contact us today to learn how we can expedite your search efforts and
help you reach your goals!