Exploring The Questionable Value Of References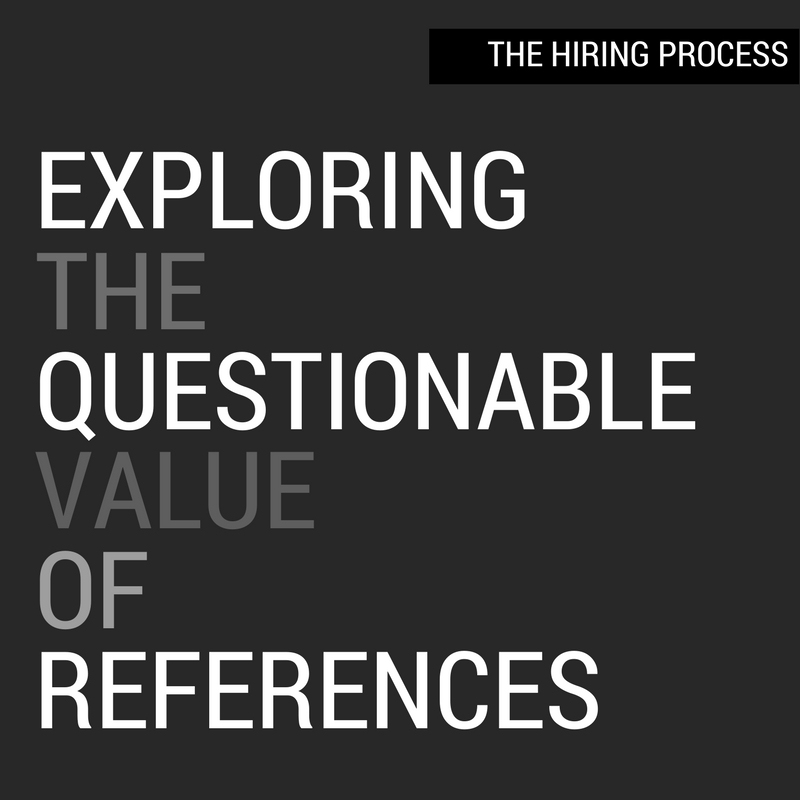 I don't mean to be contrarian, (or maybe I do) but does asking for references still add value to the hiring process?
It's been said, that a good person doesn't need references and it won't help a bad one! Kidding aside, I understand the importance of verifying a candidate's previous employment experience. I get it: It's wise to vouch for a candidate's on-the-job performance and character through a third party.
But really, for references, wouldn't it be more effective to consult the public resources that are readily available to hiring managers, such as LinkedIn profiles with client and colleague recommendations, social media and community interactions, comments, or the candidate's own website or published online content? Most candidates have a digital footprint that can tell you a lot about them—you just have to do the research. The absence of an online presence and social interactions can be instructive to the hiring process too.
As I said in a recent post, people get promoted based on their likability, not strictly because of their skill-set and competence. Some of the smartest people out there never get promoted because they lack social intuitiveness. As a hiring manager, you're trying to build a collaborative team, right?
Too often we resort to default mode as we're heading down the home stretch of a successful interview process: "When can you start, and how much notice do you need to give your employer?" "When can we set you up for physical or drug screen?" And, of course: "Can you provide us with a list of professional references?"
Seriously, how many times in your career has a potential new hire provided you with references that didn't work out? Have you received a bad reference? Why would a candidate provide one? I can say in all honesty that it's happened to me only once in 18 years.
And will the references, even the good ones, tell you something you don't already know about the candidate? Sure, you could learn something about the candidate's work ethic or a leadership skill they didn't tell you about. But really, how often does that actually happen? Just playing the devil's advocate here, because we tend to do these things on autopilot without strategic thought, don't we?
What's more, many states regulate what a former employer can say about a former employee, and it's my understanding that employers in some states can only provide information with the employee's consent. Employers can get caught up in a defamation suit by over-sharing about a former employee, so their risk-aversion is understandable.
Liz Carey recommends a balanced approach:
"Make sure the references are really who your candidate says they are by looking them up on LinkedIn and calling them on the company's land-line. Ask open-ended questions about their work processes, attitude, key strengths, and areas for improvement, and whether they would have the candidate work with them again. Pay attention to what the reference doesn't say about the candidate, as well." (1)
Good advice, but I would say gut instincts have a strong role to play as well—much more than references—as your proven experience and intuitive judgment inform and ultimately hold sway in determining a candidate's fitness for a role.
What do you think? I'd love to hear from you in the comments below.
What Are You Searching For?
Let us apply our considerable skills and experience for you. If you've worked with Victoria James Executive Search before, you already know how we provide strategic value for our job seekers and HR talent professionals.
All Victoria James Executive Search recruiters have a proven track record of senior-level placements at Fortune 500 firms as well as start-ups.
Smile! We leave with the following superb job-interviewing tip guaranteed to land your next job with style
from the folks over at The Poke in the UK (try these at your own risk

):
During the interview, be confident but subtle: Tap "team player" in Morse Code into the desk with a pen.
➤ Get news like this delivered right to your inbox – click and subscribe to our mailing list today!
---
References:
1. Carey, Liz. How Important Are Reference Checks. Jan. 27, 2016 (Accessed May 24, 2017): http://npaworldwide.com/blog/2016/01/27/how-important-are-reference-checks/#.WSWII1KZO9Y
---
Are You Ready for a Promotion? 
We are currently seeking experienced, talented professionals for these, plus many other great opportunities:
Contact us today and take the next step in advancing your career!