3 Ways Corporate Recruiters Enhance Employee Onboarding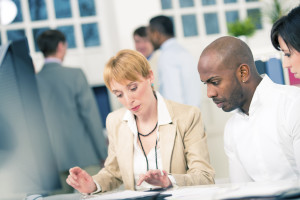 With the urgent demands of today's workplace, HR talent teams can sometimes overlook the value that corporate recruiters bring to the onboarding process.
In reality, strategic corporate recruiters distinguish themselves as trusted partners of the HR talent team—they become extensions of the corporate brand. They improve the onboarding process through communication, acculturation and retention
1. Closing the Communication Loop
HR talent acquisition teams involve corporate recruiters in many aspects of the onboarding process today. But recruiters, headhunters and other job-search professionals, including Victoria James Executive Search, are normally sourced from outside the organization. As such, they provide real value to the onboarding process by closing the communication loop among new hires, their hiring managers and the organization's HR talent team, and offering helpful, objective recommendations for improving at-risk hiring situations before things get out-of-hand.
There's a perception that the recruiter's job is pretty much done when the new hire starts working, but the opposite is true. The recruiter's role in gathering feedback about what went right and what went wrong with new hires is extremely valuable to client organizations, and can help the HR talent team to improve the onboarding services in the future.

2. Preparing New Hires For Corporate Culture
Strategic corporate recruiters incorporate onboarding into the recruitment lifecycle, including the process of preparing new hires for a new corporate culture. Sure, most organizations email a video to new hires that provides some high-level understanding of the company's goals and culture. But what's it really like to work there? A good recruiter studies corporate culture from every angle, going outside of officially approved norms to gather relevant information from informal and offline sources. They understand the corporate rules, real or implicit. Does everyone go out together for a drink on Thursday nights? Does everyone wear green on Mondays? A good corporate recruiter brings value by making sure the new hire is in the know concerning the intangibles of corporate culture.

3. Increasing Retention and Engagement
A Deloitte study showed that 4% of new employees left after a dreadful first day, and another study, conducted by BambooHR, discovered that 31% of respondents quit jobs within the first six months. So, new hires are deciding whether they want to work for your company during those critical first months on the job.
Top recruiters can increase retention and long-term engagement of new hires by becoming a colleague, not just the person who helped them land a job. After the recruitment process, strategic recruiters might invite a new hire out to coffee to learn more about long-term goals and career aspirations. They find proactive ways to facilitate the onboarding process, helping new hires to develop new skills and put together a career path at the new company, based on the recruiter's deep understanding of the organization.
How Is Your Recruitment Process Going?
HR talent professionals deserve the support of corporate recruiters who improve onboarding through communication, acculturation and reduced turnover.
If you've worked with Victoria James Executive Search before, you already know that you'll have a strategic partner who understands your organization's goals, corporate culture and onboarding strategy.
Give us a call today at 203.750.8838, if you'd like to chat.
All Victoria James Executive Search recruiters have a proven track record of senior-level placements at Fortune 500 firms as well as start-ups. We look forward to hearing from you and having the opportunity to be of assistance.
➤ Get news like this delivered right to your inbox – click and subscribe to our mailing list today!
Smile! We leave with the following superb job-interviewing tip guaranteed to land your next job with style
from the folks over at The Poke in the UK (try these at your own risk

):
Ok. Leave a gap for 2011 on your CV. When they ask what you did during 2011 say, "Remember the Arab Spring?"
Then point to yourself and start nodding your head.