"Our job is to prepare you for success. The moment you submit your resume we begin searching for an appropriate position, a position that will bring you the most fulfillment. Your success is our success."

Victoria James, President, Victoria James Executive Search, Inc.
How Victoria James Executive Search will work with you
We are interested in long-term relationships with all our candidates. That's why we will do everything we can to make sure that your next position is a perfect fit for you.

Once you register with us we will:
review your resume
classify your experience and
add you to our database of candidates.
Registering with VJESI gives you access to a "hidden job market" with leading companies in your field.

When we receive a suitable opening, one of our recruiters will contact you to discuss:

your skills and experience
your salary requirements, career goals and geographic preference.
We may not contact you until we match your skills and personality with a suitable company.

We will contact you as soon as we identify a position that fits your credentials and requirements.

If after discussion with you, it's a match and with your permission, we will submit your credentials to the client.

We will set up an interview, provide you with information about the company and the hiring manager.

We will prepare you for the interview, and give you feedback after the interview.

We will assist with all negotiations when an offer is extended. 

We can also help you through the resignation process from your current company if you wish.

It is important to remain professional and leave your current company on good terms. 

We conduct all of our searches in strict confidence.

You will never be responsible for paying us any fees.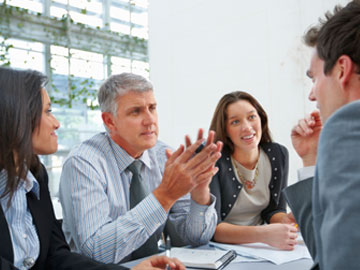 What our candidates say about us
"Thank you Victoria. At the risk of sounding obsequious, 'finding' you has been one of the highlights of a difficult year/search. Early on when others offered a well-intentioned but empty 'let me know if there is anything I can do', you actually DID... namely you helped to dramatically improve my resume and let the real me come through. And you have checked in periodically even when you have nothing at all to gain financially since you had no search I could fill. I really appreciate that and I won't forget it. Though my circle of influence will be much more localized once I close the deal, you can bet I will enthusiastically recommend you if ever I run to a situation for which your recruiting skills are needed."

B. E., Chief Revenue Officer | Executive VP of Sales

"Victoria James Executive Search did a great job finding me a solid position with a company that fits my needs—and they did it in a very timely manner. Even though we never met in person, Victoria was great at creating a connection, and she took the time to listen to me, and understand both what I wanted and what I brought to the table in terms of experience and skills. I would definitely work with Victoria and her team again—I've already referred her to people in my network."

"Victoria, thank you so much for all your efforts helping me land my new position. It feels like a really good match! I appreciate your direct style and responsiveness. In my experience with recruiters you stand out like a gem."

W.M., Director Loyalty Marketing Agency

"I have known Victoria for many years and she has always had a solid reputation as a top notch professional in the Executive Search world. She helped me enormously early in my career and has come through for me again with my current opportunity. She is super smart and personable, has an huge network of contacts and takes the time to understand your goals in order to connect you with the best fit for you."

-- Mike Soltis, Business Development Specialist, Aspire-North